Abseil Access, the leading name in innovative construction solutions, is thrilled to announce the successful completion of two 66m long bridges – Ahikiwi and Parore. These were built for the Far North District Council, facilitating the development of the new Kaihu River trails near Dargaville.
In a partnership with local civil firm United Civil, Abseil Access was entrusted with building the first two bridges on this trail. The construction phase was wrapped up in March 2023, demonstrating our signature efficiency and quality.
The project was notable for our senior bridge build supervisor, Matt Thom. Being from the Far North, Matt was ecstatic to return to his homeland and contribute to the community that shaped him. Adding a personal touch, he even brought in some of his extended family members to assist in the construction process. This project is more than just a job – it is a testament to our commitment to the communities we serve.
The completion of the Ahikiwi and Parore bridges marks just the beginning of our involvement with the Kaihu River trails. We are excited about the prospect of constructing more bridges on this trail, further enhancing its accessibility and usability.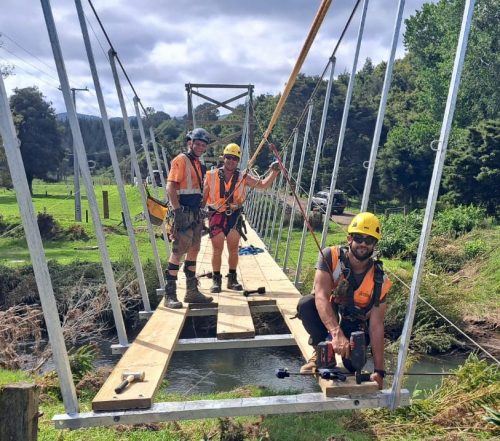 Stay tuned for more updates as we bridge communities and enhance landscapes across New Zealand. We're grateful for the trust placed in us and look forward to many more successful collaborations in the future.